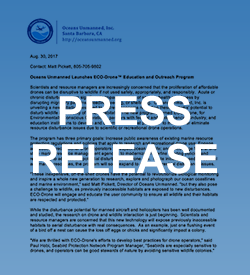 November 12, 2019
Contact: Brian Taggart: 301-728-9732
Oceans Unmanned, Inc., (OU) in partnership with the Scottish Entanglement Alliance (SEA) and DARTdrones, recently expanded their freeFLY initiative into Scotland to provide drone support for marine mammal disentanglement response efforts in the country.  Launched in 2018, the freeFLY program provides equipment and hands-on training to networks of local volunteer drone operators that are available to support regional response groups.  OU hosted a two-day session focused on initial flight training and advanced safe launching, operating, and recovering drones from small boats and support vessels.
"Based on the available data, the rate of entanglements and range of species impacted appear to be increasing in Scottish waters," said Ellie MacLennan, coordinator of the SEA project, "the addition of aerial imagery from on-scene, vessel-launched drones will provide improved situational awareness and increased safety for both the animal and responders."  The goals of SEA include improving reporting rates of marine animal entanglements and providing opportunities for fishermen to become involved in entanglement research and disentanglement efforts through workshops and training courses.
The freeFLY training was part of a larger workshop delivered by David Mattila, Technical Advisor to the International Whaling Commission (IWC) on Entanglement Response and Ship Strike Reduction, and coordinator of the Global Whale Entanglement Response Network.  The workshop focused on encouraging better reporting of entanglements, widening Scotland's existing entanglement response network, and sharing insights to better understand, mitigate and respond to incidents. "This event was a great opportunity to work with both SEA and the IWC and hopefully begin a long-term partnership" said Brian Taggart, Chief Pilot for Oceans Unmanned, "we were able to donate complete drone equipment sets, safety gear, and provide a significant amount of on-the-water training for the response teams."
Oceans Unmanned, Inc. is a 501(c)(3) non-profit organization that facilitates the use of unmanned technologies and promotes their safe and environmentally conscious operation to protect the ocean and coastal marine environment.
The Scottish Entanglement Alliance (SEA) is a partnership between six organizations dedicated to promoting and protecting Scotland's wildlife, heritage and sustainable marine industries.
MEDIA:           Images and video available on request
ONLINE:         www.oceansunmanned.org