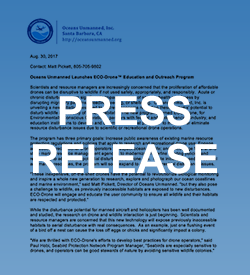 Oceans Unmanned, Inc., (OU) announced a new collaboration with the Marine Research and High Education Center (MaRHE – University of Milano-Bicocca), The Ritz-Carlton Maldives, Fari Islands Marine Conservation Technology Hub, led by Loughborough University PhD student and Principal Investigator, Melissa Schiele.
Oceans Unmanned is providing long-endurance, water-landing fixed-wing drones that can support the maturation of aerial technologies in a variety of marine conservation efforts in the Maldives. OU has years of experience leading ocean and coastal marine research projects utilizing unmanned platforms and remote sensing that will be directly applicable to ongoing efforts in the Maldives. The goal of the broad-based partnership is to leverage experts in aerial systems, remote sensing, and environmental monitoring to primarily classify and understand the spatial and temporal aggregation and deposition of plastics around the country.
The aerial system is multiuse and can be utilized for marine wildlife and coral bleaching monitoring, land-use change and if required, illegal fishing surveillance in Marine Protected Areas (MPAs). "The Maldives is one of the most spread-out nations in the world, with
~90,000km2 being ocean and reef." said Melissa Schiele, engineering and marine ecology PhD Student at Loughborough University, "and the need for plastics monitoring aligns with part of my PhD research which aims to develop simple methodologies for detection and quantification of plastics, using aerial systems, be that fixed wings or multirotor drones. We are also dedicated to building technological capacity and expertise, in situ, with our local partners."
The new drones will be stationed at the MaRHE Center on Magoodhoo Island to support ongoing research and educational activities in the fields of environmental science and marine biology. "MaRHE welcomes OU to this partnership that will significantly expand the island's research and teaching activities. For over twelve years, the MaRHE Center has led multiple projects involving students and researchers of the Maldivian National University, the local population of the Atoll, and government departments. This new collaboration expands the resources of MaRHE and will lead to new hands-on workshops that will be accessible both to local and international students and researchers. The overarching goal is to introduce more early-career scientists to the enormous potential of unmanned platforms in the monitoring and conservation of coral reef environments.
"We're very excited about this partnership," said Matt Pickett, Oceans Unmanned Founder, "we've been collaborating with Ms. Schiele over the past year on our marine debris initiatives and look forward to expanding the collaboration. In addition, we're big believers in the power of technology to address environmental challenges and marine conservation is an area where we believe our experience can really support local efforts in the Maldives."
Oceans Unmanned, Inc. is a 501(c)(3) non-profit organization that facilitates the use of unmanned technologies and promotes their safe and environmentally conscious operation to protect the ocean and coastal marine environment.
The Marine Research and High Education Center aims to blend technology, development and sustainability for the protection of the natural environment and the enhancement of human resources.
###
MEDIA:           Images and video available on request ONLINE: