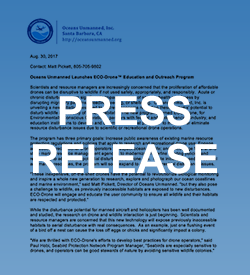 Aug. 30, 2017
Contact: Matt Pickett, 805-705-9802
Oceans Unmanned Launches ECO-Drone™ Education and Outreach Program
Oceans Unmanned, Inc. unveiled a new initiative designed to address growing concerns regarding the proliferation of drones and their potential to disturb wildlife in a variety of remote habitats. The new program, dubbed ECO-Drone, for Environmentally Conscious Operations, partners with federal and state agencies, industry, and education institutions to develop and communicate "best practices" to minimize or eliminate resource disturbance issues due to scientific and recreational drone operations.
The program has three primary goals: Increase public awareness of existing marine resource protection regulations and policies that apply to research and recreational drone use; Engage and educate recreational drone operators to respect ocean wildlife; and Encourage federal and state marine resource management agencies to modernize and refine existing policies and regulations to address the potential disturbance of drone use. While initially focused on coastal and marine resources, the program hopes to expand to address terrestrial disturbance issues in the future.
"These inexpensive, off-the-shelf drones have the potential to revolutionize biological monitoring and inspire a whole new generation to research, explore and photograph our ocean coastlines and marine environment," said Matt Pickett, Director of Oceans Unmanned. "but they also pose a challenge to wildlife, as previously inaccessible habitats are exposed to new disturbances. ECO-Drone will educate and engage the user community to ensure all wildlife and their habitats are respected and protected."
While the disturbance potential for manned aircraft and helicopters has been well documented and studied, the research on drone disturbance is just beginning. Scientists and resource managers are concerned that acute or chronic disturbances of wildlife by drones can significantly impact animal health and fitness by disrupting migratory patterns, breeding, feeding, and sheltering. For example, just one flushing event of a bird off a nest can cause the loss off eggs or chicks and significantly impact a colony.
"We are thrilled with ECO-Drone's efforts to develop best practices for drone operators," said Paul Hobi, Seabird Protection Network Program Manager, "Seabirds are especially sensitive to drones, and operators can be good stewards of nature by avoiding sensitive wildlife colonies."
The first two projects underway are a direct outreach campaign and an education partnership. Oceans Unmanned is working with the Bureau of Land Management (BLM) to distribute informational postcards about drone etiquette at coastal access points along the central California coast. In addition, Oceans Unmanned has partnered with DARTdrones, the national leader in drone training and consultation, in development of an ECO-Drone training module to educate drone operators at the beginning of their careers and businesses.
Oceans Unmanned, Inc., a 501(C)(3) non-profit organization, facilitates the use of unmanned technologies and promotes their safe and environmentally conscious operation to protect the ocean and coastal marine environment.
MEDIA: IMAGES and video
On the web:
Oceans Unmanned: https://oceansunmanned.org
# # #